Types of Fishing
that the Bad Boyz fishing crew offer you.
WRECK FISHING
Amazing Fishing Spots
on many sea wrecks in the region.
Angelsey Fishing Charters offer fantastic fishing on many fish wrecks in the region. A fantastic days fishing with the Bad Boyz
Saint Georges channel was once the main shipping area for the western isle thus providing a huge amount of ship wrecks to fish; 20-30 miles on a general day and 25-40 miles on the longer trips and deeper waters. These wrecks around our area are only accessible on tides lower than 30ft due to the strength of our tides.
With Pollack being our main target through most summer month's averaging 3-15lb with larger on occasion, every so often a nice run of Cod will show up on some of the shallower wrecks with most fish being 3-6lb, You will also get the odd ling thrown in for that persevering angler.
TACKLE
A good quality 12-20lb boat rod or a 4-8oz uptider matched with a 7000 sized real loaded with 20lb braid or if you feeling you want that extra fun factor a nice weight spinning rod, a 5000 size fixed spool again with 20lb braid.
The business end alternates for the tides, a flying collar style rig 10oz ball lead around slack water a 4-6ft trace increasing to a 12-14ft once the tides picks up, a quality 4/0-6/0 hook or the general Skerries sandeel / rhubarb & custard sidewinder.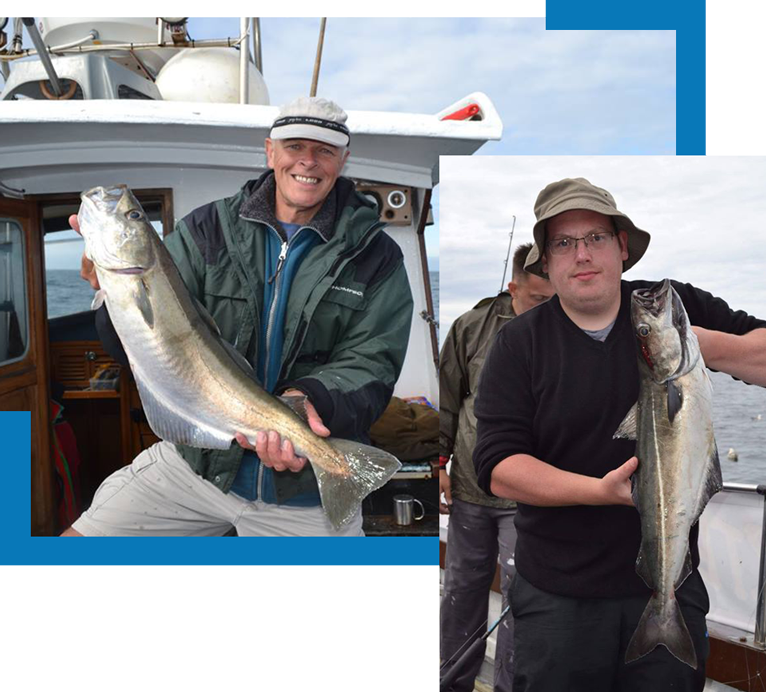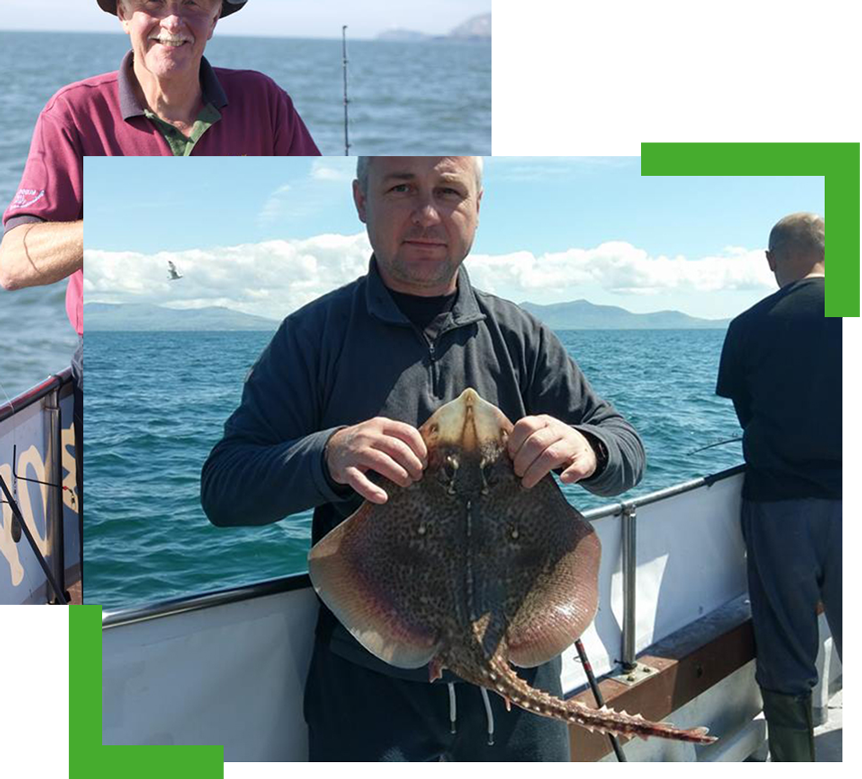 CAERNARFON BAY
Fishing North Wales
- Caernarfon Bay and Saint Georges channel
Caernarfon Bay (occasionally Caernarvon Bay) is an inlet of the Irish Sea defined by the Llŷn peninsula and Anglesey and there is some amazing fishing to be done in this region.
With a vast amount of sand banks and reefs, Caernarfon bay is a superb all round days fishing with fairly settled tides and shallow water depths.
We tend to fish Caernarfon Bay on the spring tides with Skate predominately feeding on the ebb tides down to slack water.
The bay can provide excellent sport on species hunting days drifting over the many banks in the area for Gurnards, Dabs, Turbot, Plaice, Skate ect.... A few wrecks around the area provide a great attraction around slack water to anchor up for Tope, Spurdogs, Skate and Bullhuss.
TACKLE
4-8oz uptider or 12lb class boat rod along with a 5000/sl20 size real loaded with 20lb braid for the main part and then the business end consists of a running ledger 4ft hook length of 30-60lb mono depending on your target fish and again a verity of hook sizes to accommodate multiple species. weights from 4oz to 12oz torpedo and teardrops work best.
Get in touch with Bad Boyz for amazing fishing triups in and around Caernarfon Bay, Anglesey.
TOPE & SPURDOG
Shark Fishing
with the Bad Boyz fishing crew
Tope to 72lb and Spurdogs to 21 1/2lb are the boats records although 80+lb tope do come from our coastline most seasons on neighbouring boats.
Tope fishing from Holyhead varies depending on fishing areas and tidal size. We can fish the famous Holyhead deeps on the lowest neaps to a maximum of around the 30/31ft on the inner edge, the neaps being our favourite due to the time we get at anchor is almost doubled.
The tope begin to show early may and continue to build in numbers through to mid October, along with great sport on tope there are plenty of smaller sharks in the form of Spurdog to be caught in the deep waters off our coastline providing excellent sport from as early on as March in large shoals running through the summer and can often be a luck of the draw whether you lift your rod into a tope or a spurdog.
The spurdog gets its name from two bone spurs above each dorsal fin and white spots spread over its back making it easily identifiable against the tope which bares a smooth back and light silvery grey colours.
TACKLE
A slightly heavier uptider 6-10oz coupled with a 7000 / sl30 sized real loaded up with 25 to 30lb breaking strain mainline, braid being the best choice. Rigs are nice and simple, for general a running ledger with 3-5ft 200lb mono-filament hook length and a 6-8/0 bronze hook for quick rust away if the trace if lost in the fish, we steer clear on wire traces due to the damage it could possibly do to the fish.
ALL TOPE ARE CATCH AND RELEASE BASIS.
When the large shoals of spurodgs are around a heavy weight 2 hook paternoster made with 100/150lb mono and a couple of large red/lumi muppets will do the business for a quantity catch.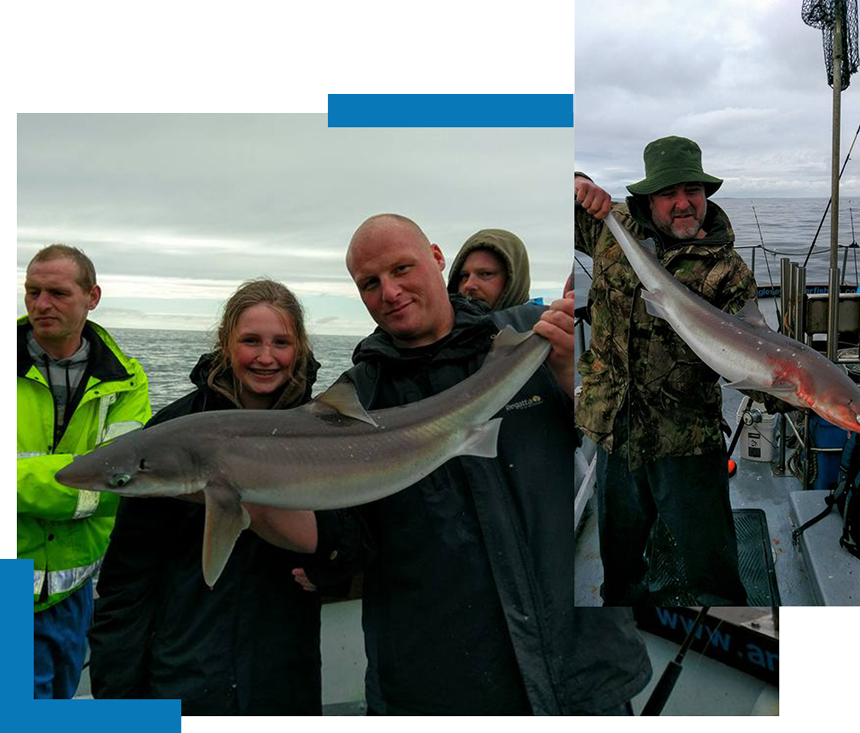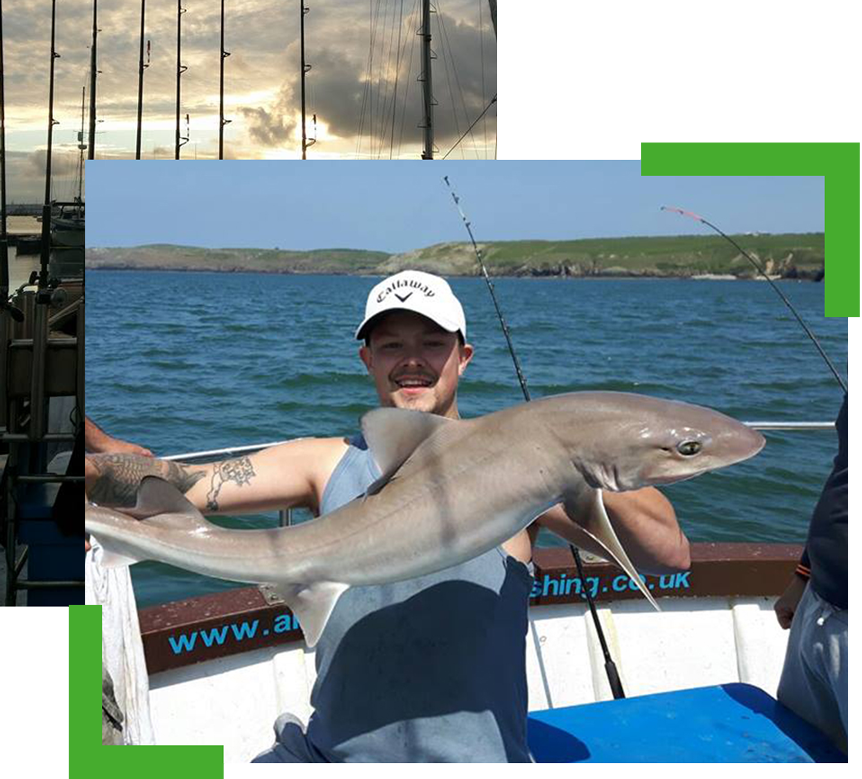 SMOOTH HOUND
These Sharks
are a shallow water shark species.
Smoothhound fishing has come to be of somewhat famous around the Anglesey coastline with the quality of fish coming from both boat and shore marks throughout the summer months starting mid-may.
Every year multiple 20lb+ fish come to the boat showing the quality we have in our area. These hard fighting sharks are found in shallow water normally 60ft and below on slightly rough terrain where they will be hunting out food which consists of crabs,prawns and crustaceans.
Smoothhound unlike most sharks don't have teeth, in there mouth you will find a tough 40 grade sandpaper like pad connected to extremely strong jaw muscles enabling them to brake through the toughest of crab shells.
TACKLE
12lb class boat rod, 5000 sized reel and 20lb braid will be more than enough for anyone starting out on the sport of smoothhound but you will see many anglers on board Bad Boyz trying to tempt these fish with the lightest if not most stupid rod they can find all in the search of the adrenaline rush.
A simple 4ft 50lb flurocarbon hook length and a big mouth 3/0 set up as a running ledger will do the trick, baits being peeler crabs when available.
GENERAL FISHING
Bad Boyz Charter
simple amazing fishing !
Relax and enjoy some great fishing around North Wales coastline with the Anglesey Fishing Crew
General fishing is a mix and match day where you may spend some time drifting and then followed by an anchor session depending on what your targets are for the day but often 15-20 species is a general day afloat. Holyhead can offer fantastic sport with a large variety of venues available to use on all states on tides.
If your drifting the main targets are Ballan / Cuckoo Wrasse, Pollack and Coalie with mackerel and mini species making up numbers.
Anchor can be spent anywhere from the local mud and mussel banks or out to the famous holyhead deeps, both marks having there targeted fish.
Winter time can produce good congers on many of the wrecks around the area.
RIVER MERSEY
The River Mersey - new to Bad Boyz for 2017, from mid October through to mid march we will be working along side some fantastic skippers running in the Mersey fishing the winter Cod season. every year the Mersey produces a great stamp of cod ranging from 1-20lb along with great action on quality Rays, Dabs and Whitting.
This will be Bad Boyz first winter season fishing from the Mersey although not Aaron's, Aaron has fished the Mersey for the last 12 years from competitions to skippering a friends day boat so he has gained great fishing knowledge of the area which will only grow with seasons running the boat from there on a daily basis.